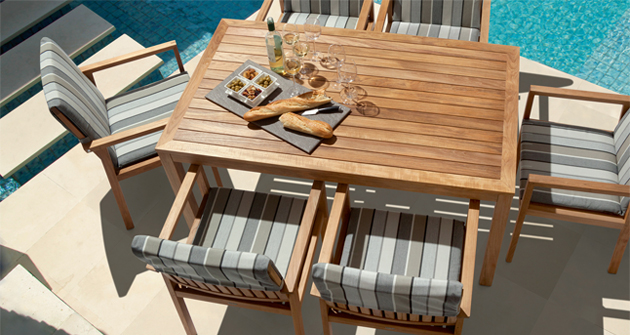 World of Teak
BARLOW TYRIE
Quality Since 1920
Leading Online Stockist
Why Invest in Barlow Tyrie Furniture?
Barlow Tyrie is associated the world over with outdoor leisure furniture that strikes the highest notes in both quality and style. Barlow Tyrie has remained a family business since 1920 and specializes in the manufacture of teak furniture to which they have extended ranges to include Stainless Steel, Aluminium and hand-woven synthetic fibre.
In an effort to provide the widest choice of contemporary and traditional designs for the outdoor room; designers combine pleasing designs with ergonomic performance to create furniture that opens life outdoors to a world of stylish possibilities.
It is through this commitment to produce the world's finest outdoor leisure furniture; Barlow Tyrie remains at the forefront of a rapidly changing industry and continues to demonstrate the best in British design and manufacturing expertise.
Thank you for choosing Barlow Tyrie and be assured that our customer service and after care match the excellence of our furniture. We proudly welcome you into the elite group of owners of our furniture and look forward to being of service to you.
Choose from a wide selection
Barlow Tyrie Garden Furniture manufacture their own extensive range of teak outdoor garden furniture with traditional designs that include teak chairs and tables, teak steamers, teak benches and swing seats, as well as items in teak using synthetic material that include chairs, sun loungers and deep seating.
They also manufacture their own extensive ranges of furniture in both stainless steel and aluminium, which include chairs, tables, loungers and deep seating. This furniture incorporates teak and synthetic material to give modern, contemporary designs that look good in any setting.
We supply a full range of outdoor garden parasols and cushions to complement our ranges of teak, aluminium and stainless steel outdoor garden furniture. Much of our extensive range of furniture is suitable for use both indoors and outdoors, around the swimming pool or on the patio.
We supply a large range of teak contract furniture that includes heavy-duty teak garden seats and benches. We can supply these items with a beautifully carved inscription or a flush fitted bronze plaque with secret fixing.
Recently added, a full collection of woven furniture to our range, including a Daybed, Lounger, Circular and Rectangular Dining Tables, Modular Seating, Armchairs, Dining Chairs, Settees, Side and Coffee Tables.
Materials
TEAK - Barlow Tyrie uses first grade plantation grown teak wood (Tectona Grandis). Obtained from the most reputable, legal source in Indonesia. With time, teak acquires a silver grey patina that complements any outdoor setting. The high oil content of the teak wood used in our furniture enables it to withstand the harshest weather conditions with a minimum of maintenance. Teak is very stable and resistant to rot, which has made it the first choice for marine and outdoor use over the centuries.
STAINLESS STEEL - We use two grades of Stainless Steel; 316 Grade, commonly known as "marine grade" and 304 Grade, more commonly used for garden furniture. Both 316 and 304 are hard-wearing and suitable for use in inland locations whilst 316 is for use in coastal areas, marine and heavily chlorinated environments, where oxidation could be a problem. You should note that all outdoor furniture, including Stainless Steel, requires some maintenance. If you have any questions or concerns about the grade that is best for your area, then please contact your supplier or our sales team on 0208 829 8840.
ALUMINIUM - For our Aluminium furniture, we use "Virgin Aluminium" which means it is not reclaimed and is stronger and longer lasting as a consequence. We chemically clean the Aluminium and then powder-coat it to prevent oxidation and to ensure it gives long service with the minimum of maintenance.
WOVEN - We introduced our comprehensive Woven ranges in recent years, since then they have become very popular. We use the finest synthetic material that is hand-woven over a powder-coated Aluminium frame to produce splendid furniture that is strong, colourfast and entirely resistant to sun and rain.
TEXTILENE - Woven from a PVC coated polyester, non-stretch yarn, which is strong and mildew resistant. We use Textilene for the fabric slings on our teak, Stainless Steel and Aluminium furniture to incorporate colour, comfort and weather resistance.
CUSHION - Our range of luxury cushions adds that personal touch to your furniture. We use Sunbrella fabric, made from 100% solution-dyed acrylic fibre that is colourfast and resistant to mildew. Our cushions are available in a range of outstanding solid colours and designs. The best furniture deserves only the very
best cushions.